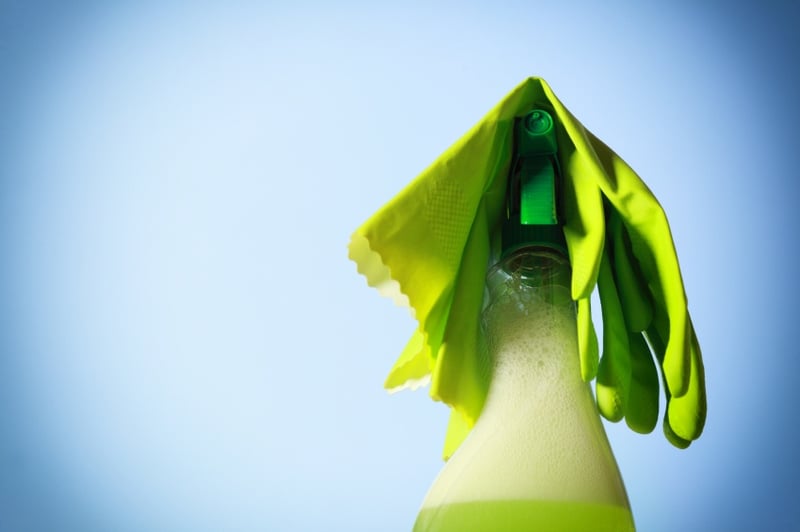 If you haven't yet implemented a green cleaning program at your facility, now's the time. Not only does it make the environment safer for employees and building occupants, it can lead to a reduction in facility costs.
Here are the problems with traditional products, some green cleaning benefits, and additional resources to help you implement a green cleaning program at your own facility.
The Problems with Traditional Cleaning Products
It's been proven that traditional cleaning products are hazardous to human health. According to LEED's report for Existing Buildings Operations and Maintenance, these products have "potentially hazardous chemical, biological and particulate contaminants, which adversely affect air quality, human health, building finishes, building systems and the environment."
Cleaning agents directly impact occupant health. In schools, cleaning products can adversely affect students. According to RAMP (Regional Asthma Management and Prevention), "the very products used to keep schools clean and healthy contribute to poor indoor air quality (IAQ), seriously affecting those with asthma or other respiratory problems."
The issue of indoor air quality is especially important seeing as people spend about 90 percent of their time indoors and, according to the EPA, "indoor air levels of many pollutants may be 2-5 times, and occasionally, more than 100 times higher than outdoor levels."
Green Cleaning Benefits
In an effort to improve indoor air quality and avoid any cleaning agents that could negatively affect facility occupants and the environment, it's important to make a commitment to green cleaning.
After all, green products:
1. Pose less of a health risk
A report by the Environmental Working Group found that certified green products "contained one-third the chemicals" with known health effects compared to traditional cleaning products.
2. Are better for the environment
According to RAMP, "green cleaning products must meet stringent criteria to ensure they are environmentally preferable." This includes being less likely to build up in the body, being free of ozone-depleting chemicals, and having fewer smog-producing chemicals.
3. Help facilities save money
Reducing the number of products used while using concentrated green products with automatic dilution equipment can save facilities money. In fact, one Palm Beach County School District projected annual savings of $360,000 after phasing green products into all 180 of its schools.
4. Are safer for workers
Green products must meet standards for inhalation toxicity, combustibility, and absorption through the skin. This means green products are safer, decreasing the likelihood of worker complaints, chronic illness, and hurt attendance and productivity.
Resources
Here are some additional resources to help you start implementing a green cleaning program at your own facility.
LEED 2009 for Existing Buildings
This updated document goes through the operations and maintenance project checklist regarding indoor environmental quality, including a green cleaning policy that touches on custodial effectiveness, sustainable cleaning equipment, pollutant source control and integrated pest management.
High Performance Green Cleaning Program
You can also check out this page on the U.S. Green Building Council's website to review program intent, requirements and alternative compliance paths.
Conclusion
When it comes to green cleaning, you have everything to gain and very little to lose. Healthier workers and building occupants, sustainable facility practices, and a cushier bottom line are only a few of the many green cleaning benefits you'll enjoy.