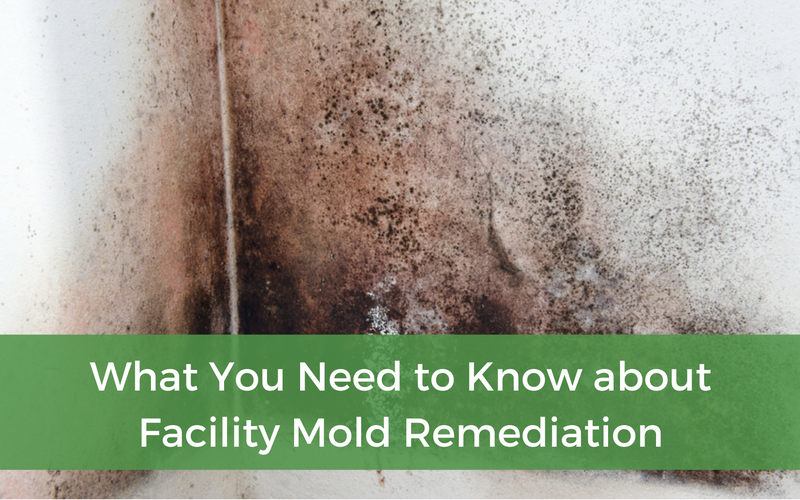 Mold. It can cause serious health problems and damage your facility, which is why quick and efficient mold remediation is so important.
In order to guard the health of your facility and those who occupy and/or work in it, here are the potential threats of and how to prevent and remediate mold growth.
Potential Threats
The people most at risk from mold are those with allergies, asthma and other breathing conditions, as well as people with immune suppression.
According to the CDC, mold affects people differently:
People sensitive to mold may experience wheezing, stuffy nose, skin irritation or irritated eyes.

People allergic to mold may have shortness of breath or difficulty breathing.

People with weakened immune systems and/or chronic lung diseases may develop mold infections in their lungs.
In addition to affecting human health, mold can affect the health of your facility. If unaddressed, mold growth can get out of control and affect the aesthetics and structural integrity of a building.
Preventative Measures
The best way to prevent mold growth is to have good design and construction practices in place. By paying attention to design and construction from the get-go, you'll be able to prevent water and moisture exposure. That being said, even the most well-designed facilities can still have mold problems.
There are a variety of moisture and mold-resistant products on the market, including wall assembly elements like:
Wallboard with bio-inhibitor-treated paper facing that prohibits mold from feeding and growing on paper facings

Joint tape that resists moisture and mold

Exterior gypsum sheathing made with fiberglass mats that provide natural resistance to moisture and mold
Many sites are beginning to install moisture-resistant building materials throughout facilities, not only in areas most susceptible to moisture; managers believe the benefits and mitigated risk outweigh the high initial price.
Where to Look
If moisture and oxygen are present, mold can grow on virtually any organic substance. And if there's mold, there are mold spores, which can travel through the air and attach to other surfaces.
Just because you don't see mold on the prominent walls and surfaces of your facility, doesn't mean it's not proliferating in some well-hidden places.
There are certain places you can look where mold tends to thrive, including:
Cavity walls

Ceiling tiles

Paper

Wallboard

Ductwork

HVAC system drain pans

Carpet

HVAC terminal units

Electrical equipment

Masonry surfaces
More often than not, the sources of moisture and mold growth in buildings are condensation from pipes, plumbing leaks, and water infiltration through building enclosures.
Mold Remediation
It's important that you have a specialized team to handle all facility mold remediation efforts. These teams, like those provided by Encompass Onsite, not only have the necessary experience and expertise, but can do the job effectively and efficiently.
Mold remediation experts carefully remove and dispose of any mold-infested drywall sheets, clean up mold growth with special solutions, ensure that mold spores and dust don't spread during clean up efforts, and sanitize the area. The team will also identify and eliminate the source of the moisture that caused the mold growth in the first place.
Conclusion
A good preventative maintenance program can help prevent mold from growing and spreading. Ensure your facility maintenance team is trained to detect water damage and mold growth, including identifying the conditions in which it thrives.
By using preventative measures during construction and having an experienced mold remediation team a phone call away should it be detected, you'll be able to ensure building occupants are safe and the structural integrity of your facility is sound.