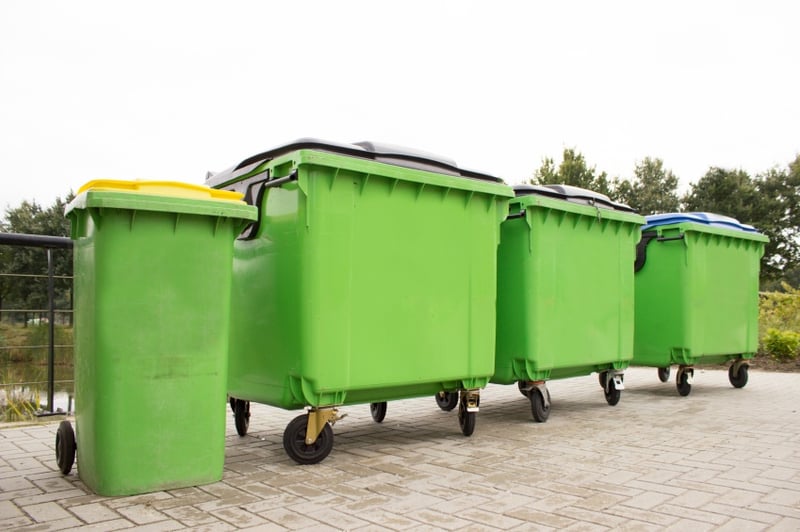 Does your facility have a comprehensive waste management plan? If not, now's the time to start setting one up.
That's because facility waste management plans can mean happier and healthier employees and occupants, a safer working environment, a happy planet, and cost savings.
Additionally, waste management programs can help your facility reuse products to extend their life cycle, recycle products at the end of their life cycle, and reduce the overall waste stream.
Different Types of Waste
There are five general types of waste. Knowing these types will help you better manage where specific items need to end up.
Single-Stream Recycling
This includes paper, plastic (including plastic bags), glass, metal, cardboard and wrapping.
Compost
This includes all food waste and leaves/vegetation.
Universal or E-Waste
This is comprised of electronic equipment, including compact fluorescent light (CFL) bulbs, cell phones, computers, monitors, and alkaline and lithium batteries.
Miscellaneous Waste
This includes clothing, shoes, furniture, office products, books, ink and toner cartridges, etc.
Landfill
This is waste that can't be diverted through any of the other waste streams. Items include food waste (when compositing isn't available), food-soiled paper or plastics, and Styrofoam.
Waste Management Plans
Comprehensive waste management solutions include recycling programs and waste stream audits. For hospitals, these programs should also include biohazard remediation and waste removal.
Recycling Program
Comprehensive recycling programs enhance a facility's sustainability efforts and can be crucial components of a LEED application. Support during the implementation period will be necessary, including communicating processes and procedures, establishing more efficient cycles, and providing detailed reports.
Waste Stream Audit
Waste stream audits aim to manage waste by diverting it from landfills to alternative uses, including recycling, in order to control disposal costs and support sustainability. This audit should also identify opportunities for both source and cost reduction.
Biohazard Remediation and Waste Removal
This essential service for hospital facilities should include accident, injury and blood clean up as well as sanitization.
How Encompass Can Help
Encompass Onsite's Green Program provides Energy Management, Waste Management and Green Cleaning Solutions to facilities of all sizes and complexities. Through our complete onsite management model, we are able to offer each facility 100% customizable solutions, improved efficiency, and sustainable practices in an environment that attracts only the most talented maintenance professionals.
Our waste management solutions can help your facility achieve a higher level of environmental performance. We'll help you enhance your facility's current green initiatives and identify areas where improvements can be made. We'll also help you reduce costs and create a safer, healthier work environment for all. To learn more, please schedule a call with us so we can better assess your facility's current performance and needs.