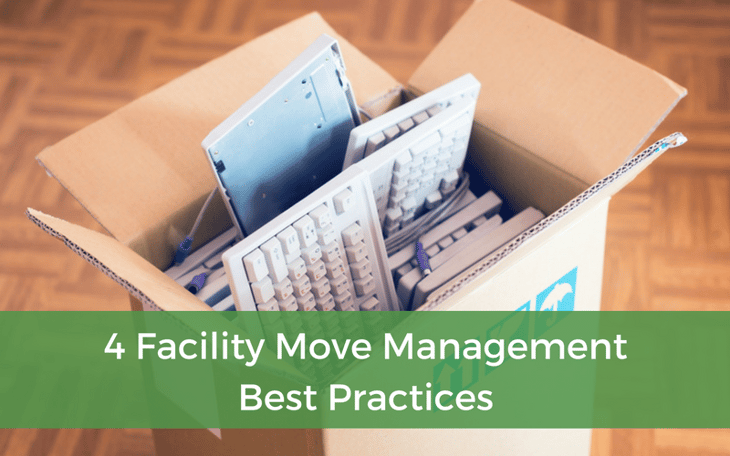 According to the International Facility Management Association (IFMA), organizations move, remodel, or relocate approximately 30 percent of their facilities each year (based on square footage).
In order to successfully move an organization's primary facility operations from one location to another, facility managers will need to engage in complex planning, coordination and execution.
Here are a few move management tips you should keep in mind the next time you need to relocate your facility!
1. Plan Ahead
Make sure you give yourself enough time to schedule and plan your move. Here are some questions you'll want to know the answers to before moving:
How many assets require special handling?
Do any assets or areas have special access or security restrictions?
Is continuous operation required for some assets?
Will in-house staff assist or will it be completely outsourced?
How large your facility is will dictate how long the planning process will be. According to IFMA, moves of less than 50,000 square feet usually require six months of planning, larger facilities can take at least 12 months, and complex facilities (think hospitals and data centers) can take up to two years.
2. Implement New Processes
A facility move is a great time to implement new works processes and technologies. That's because a new facility can act like a fresh slate and help erase old habits and routines.
Therefore, if there are new work processes you've been wanting to implement or new technologies you want to try out, do it as soon as the move happens. This can also help increase productivity and profitability while controlling costs.
3. Partner with a Trusted Vendor
Oftentimes facility managers outsource their facility move management in order to get the planning, budgeting, scheduling and coordination off of their plates. Partnering with a trusted vendor means they're able to get the help they need when it comes to move-related administrative, personnel and facility tasks, resulting in minimized downtime and moving expenses.
Encompass Onsite's move management solution provides these essential services for all facility moves. This helps minimize moving expenses and client downtime while ensuring both the strategic and tactical aspects of the move are handled efficiently.
4. Have the Right People
The people handling move management need to have a certain skill set in order to be effective. These individuals must have excellent interpersonal and problem-solving skills. They need to understand that the level of stress is going to be high and that they are going to be entrusted with important business assets.
Overall, members of the team must be reliable, competent and exhibit grace and understanding under pressure.
If using a move management vendor, be sure to select a partner that has a reliable team of experts, from electricians and data specialists to movers and furniture installers. If you run a specialized facility, like a hospital or other healthcare facility, ensure the team has all the necessary skills and qualifications.
Conclusion
While moving your organization's facility can (and most likely will) be stressful, it doesn't have to be the headache you fear. Partnering with a vendor with experience in facility moves can help alleviate a lot of that stress by taking a big chunk of the work off of your plate.