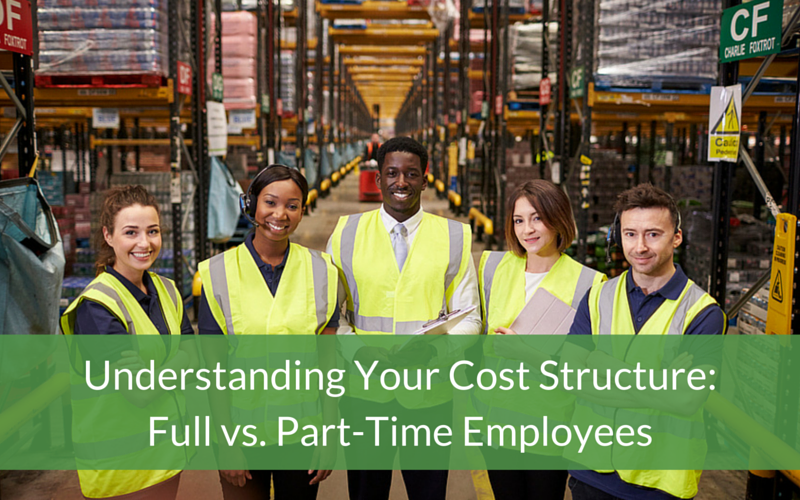 Understanding the financial and operational structures of your facility and how they go hand in hand can save you money.
One issue that regularly comes up when it comes to cost structure and planning is staffing, and whether full-time or part-time employees provide the bigger bang for your buck.
So what are the common misconceptions behind this debate and what is actually more cost effective?
Let's take a look.
Health Care
People think that because of the Affordable Care Act, hiring part-time employees (considered as less than 30 hours per week) is cheaper. That way, you are not subject to the health insurance requirements and the hefty bill that comes along with it.
However, this isn't a fundamental truth, and the answer isn't always evident. The best way to understand the financial implications is to know what levels of opt-in you can expect among your full-time employees.
Many employees may not choose to enroll in your health care plan, therefore offsetting your expected costs. There is often a correlation to levels of income that will affect this decision. The best way to know is to look at historical data, or in the absence of it, to survey your employees.
Overall, while you'll have to provide your team with health coverage, long-term cost savings often favor an investment in full-time over part-time employees.
Performance & Stability
We often hear that a person's performance declines after a certain amount of work hours in a day, making it apparently more desirable to hire people part time. However, that carries an assumption that the bulk of their productive time will be dedicated to you.
Part-time employees often hold more than one job and therefore there is competition for both their time and loyalty. When it comes down to choices on absences, job abandonment, and prioritization, employees will choose the job that offers them the greatest stability and/or larger source of income.
Furthermore, a manager's attention and time is distributed among all direct reports. Part-time employees mean a greater number of people needed, and therefore more diluted attention on the individual for training, monitoring and feedback. This can have an adverse effect on the team's overall performance.
Retention
Full-time employees are much more likely to develop company loyalty. Due to this, full-time team members often prove to be more hardworking, committed, and willing to persevere through the company's tough times. Since they also only tend to hold one job, you'll have more say over how they spend their time.
Full-time employees can also provide your organization with a sense of security that part-time workers simply can't.
Last but not least, due to the job security they enjoy, full-time team members are also often happier, and a happier workforce is a stronger and more effective one. Just take a look at some of these stats from SnackNation:
Companies with happy employees outperform the competition by 20%.
Happy employees are 12% more productive.
Employees who report being happy at work take 10 fewer sick days than unhappy employees.
Conclusion
Ultimately, a little evaluation and analytical thinking when it comes to full-time vs. part-time employees can save you big bucks in the long run.
The important exercise is to understand the driving motivations behind employee performance and satisfaction. After all, if you're working your employees too hard, it's likely you're wearing them out and, subsequently, they're underperforming.
Stay tuned for the follow-up to this post next week, entitled "Full vs. Part-Time Employees: Quantifying Your Decision." In this article, we'll go over how to determine base per-employee costs, incremental costs for full-time employees, and finding your optimal employee distribution.