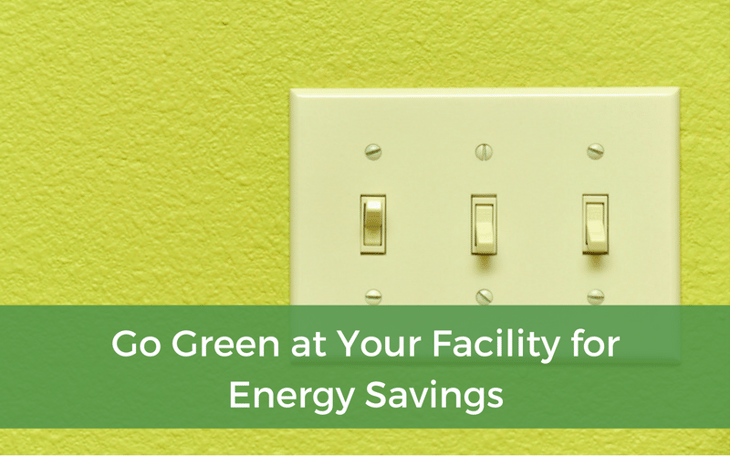 We often tout the benefits of going green at your facility here on the Insights blog. However, in this piece we'd like to underline the biggest benefit it can offer your organization: A positive impact on your bottom line.
Here are some ways you can go green and the facility energy savings you can enjoy!
1. Know how much you're spending.
First and foremost, it's important to know how much you're spending and where you're spending it for budgetary purposes, as well as in order to identify energy and cost saving opportunities.
As we shared in "3 Tools to Help You Reduce Facility Energy Costs," you can use free tools like the Environmental Protection Agency's Target Finder to assess the energy performance of your facility, the Energy Star Portfolio Manager to measure, track, and benchmark energy consumption, and the Cash Flow Opportunity Calculator to help get your energy efficiency program off the ground.
2. Find out if your provider offers rebates.
Once you know what you're spending and the major energy wasters at your facility, it's time to set a reasonable facility energy savings goal. In addition to the benchmarking data you receive from the Portfolio Manager, check out your local electricity provider's website (or call) to find out about any possible rebates.
Many local utility companies will offer rebates for facilities that are able to reduce their energy consumption by a certain percentage. This may provide a great goal for you to shoot for (and give you an extra incentive to do so!).
3. Outline a plan to reduce energy consumption.
There are numerous ways you can begin to reduce your facility energy consumption. Here are a few to keep in mind as you come up with your own plan.
Plug Load Management
According to the Department of Energy, plug and process load (PPLs) accounts for 33% of energy use in commercial buildings and that use is expected to increase by 49% by the year 2030. The amount of energy used, and therefore money spent, on plug load means there's also a huge opportunity for energy and cost savings!
You can follow these 10 steps to PPLs savings and check out cutting-edge plug load management technology to start saving today.
Additional cost and energy saving measures you might want to consider including in your plan are:
Purchasing energy-efficient lighting
Tuning up your HVAC system
Checking building fan and air distribution systems
Recommissioning your facility
Investing in energy-efficient equipment
Saving water
Using sustainable energy (solar power, etc.)
Conclusion
In order to go green at your facility to receive energy savings and boost your bottom line, it's important to first know how much you're spending and on what. Next, use benchmarks as well as local utility energy reduction incentives to set your savings goal. Once your goal is set, outline a plan you know will help you reach it.
By being proactive now, you'll save your facility thousands of dollars on energy down the line. Not only will your organization be pleased with the savings, the Earth will thank you for taking care of it!