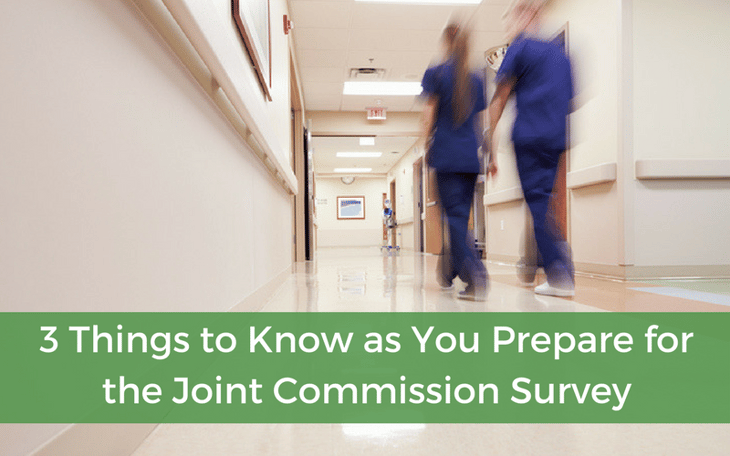 The time has come.
It's time to prepare for the Joint Commission on Accreditation, Health Care, and Certification (JCAHO) survey.
JCAHO's accreditations and certifications are "recognized nationwide as a symbol of quality that reflects an organization's commitment to meeting certain performance standards," and almost 21,000 healthcare organizations and programs in the US have received them.
But when it comes to preparing for the Joint Commission survey, what exactly should you be focusing on?
If you're a healthcare organization looking to achieve the gold seal of JCAHO accreditation, here are three things that can help you prepare.
1. Know if you'll be notified or if the survey will be unannounced.
According to JCAHO's website, the Commission usually conducts unannounced surveys "unless it is not feasible or logical to do so." While "all hospital and Centers for Medicare & Medicaid Services deeming or recognition surveys are unannounced," initial surveys, focused standards assessment options 2 and 3 surveys, and the first survey conducted under the Early Survey Policy are always announced.
Furthermore, ambulatory care, behavioral health, home care, laboratory, and nursing care center facilities receive a seven-day notice.
2. Know the 2017 National Patient Safety Goals.
JCAHO's National Patient Safety Goals (NPSGs) are available for ambulatory health care, behavioral health care, critical access hospitals, home care, hospitals, laboratories, nursing care centers, and office-based surgery.
Many of the safety goals for each type of facility overlap, and include:
Identifying patients and/or residents correctly
Using medicines safely
Preventing infection
Preventing mistakes in surgery
Identifying individuals are served correctly
Identifying individuals are served safety risks
Improving staff communication
Using alarms safely
Preventing patients and/or residents from falling
Identifying patient safety risks
Preventing bed sores
3. Know how you measure up.
According to JCAHO's recently released 2016 annual report "America's Hospitals: Improving Quality and Safety," 2015 saw a significant transition in performance measurement for The Joint Commission.
20 measures that had consistently excellent performance were retired, electronic clinical quality measure (eCQM) data was accepted for the first time, and flexible reporting options were introduced "to allow organizations choice in which measures to report."
What's more, "the report summarized data on 20 accountability measures reported by more than 3,300 Joint Commission-accredited hospitals in 2015." It also includes important statistical information regarding overall adherence to accountability measures, allowing healthcare facilities to see how they measure up.
Here's a look at how accountability composite measure sets have improved over the years when it comes to inpatient psychiatric services, stroke care, perinatal care, and more: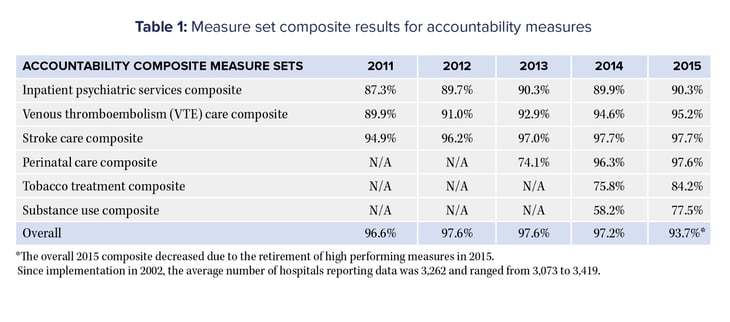 Furthermore, you can take a look at the percentage of hospitals achieving composite rates greater than 95% for accountability measure sets since 2011.
Conclusion
Ensuring you know if you'll be notified or if the Joint Commission survey will be unannounced, the 2017 National Patient Safety Goals, and how you compare to the national average will help you tremendously on your way to receiving the gold star of accreditation.
Not only will you be recognized as a leader in the healthcare space, you'll also demonstrate that your organization is dedicated to a culture of excellence, enjoy improved quality of patient care, and provide your patients with strengthened confidence in the safety and quality of treatment and services.