Here's why you need to fix the cause of facility maintenance issues, not the symptoms.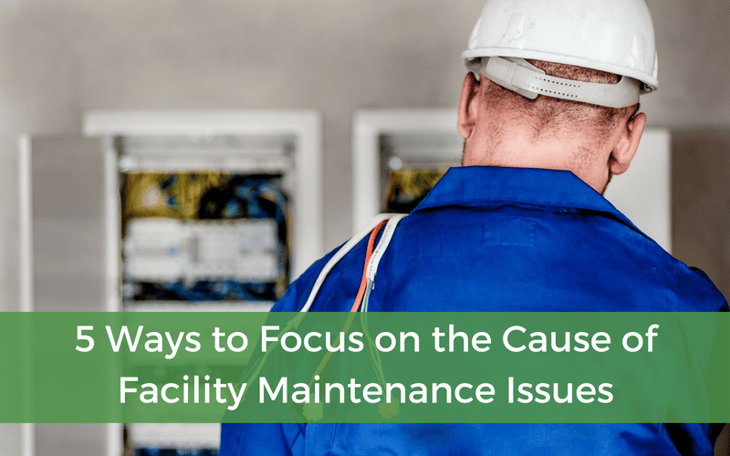 If you don't have a maintenance and repair (M&R) program at your facility, chances are you're spending a lot of money on reactionary measures.
This reactive, as opposed to proactive approach to facility maintenance, means a lot of money is lost to emergency maintenance. According to Facilities Net, the cost of emergency breakdowns annually is in the billions.
How can your organization avoid this? By focusing on the cause of facility maintenance issues, not the symptoms. This type of approach will allow you to nip any potential problems in the bud instead of waiting until it's too late to address them.
Here are some ways you can shift to this type of mindset and start saving money today.
1. Create a documented decision-making process.
Having a documented as opposed to ad hoc decision-making process will help you prioritize preventative maintenance and lower per-unit costs.
2. Manage at the project-level.
Project-level management will help you address the causes of distress for any given project. Once you identify these causes, your organization will better be able to come up with M&R alternatives and choose the best one for the project at hand.
3. Utilize predictive testing.
Predictive testing will help you monitor the operating parameters and current conditions of facility systems and their equipment components. This will allow you to be on top of any conditions that indicate impending equipment failure and conduct maintenance before anything goes offline.
4. Cut back on unnecessary maintenance.
Proactive maintenance will allow you to reduce the amount of unnecessary maintenance by identifying impending equipment or system failure and scheduling repairs as needed. This approach will also help you determine what's causing problems, from unsuitable design and improper operation to defective parts or faulty installation.
5. Perform routine inspections.
To focus on the cause instead of the symptoms of troublesome facility maintenance issues, it's important to perform routine condition survey inspections. This will allow your organization to collect information to ascertain equipment and system conditions and come up with an estimate of problems and/or deficiencies. With this information, you'll be better able to craft and carry out long-range work plans.
Conclusion
By creating a documented decision-making process, employing project-level management, utilizing predictive testing, cutting back on unnecessary maintenance, and performing routine inspections, you'll be able to keep your facilities performing at high-efficiency and save money wasted on reactive maintenance.