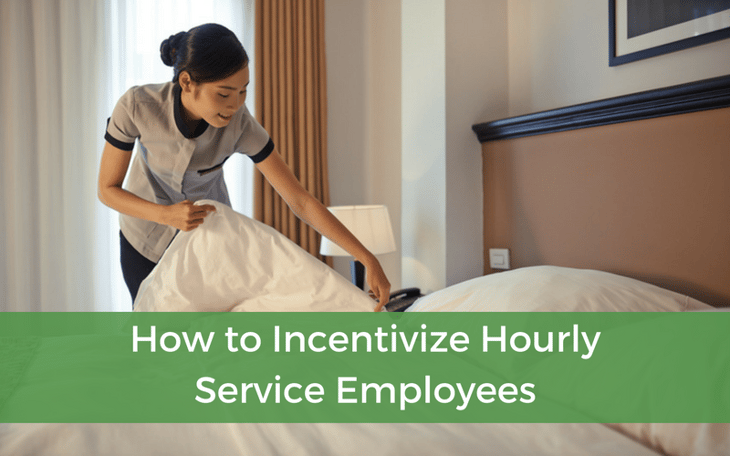 Since the majority of service employees aren't on salary, how can you incentivize them to be more productive when their pay depends on the amount of hours worked?
First and foremost, it's important that you take a different approach when motivating salaried vs. hourly employees. While employees on salary can more easily be motivated to be more productive in order to reduce the time spent at work, hourly team members respond best to completely different factors, because of the nature of the pay structure.
The reality for most service companies is that budgets are limited, and greater pay is not a realistic differentiator for the job. And even if it were not the case, the conflict between productivity and hourly compensation would still be present. Here's how engagement, motivation, recognition and compensation can all play an important role in incentivizing your team.
Engagement
Your first order of business is to get your service employees more engaged.
According to the research study Hourly Employee Engagement and Reward Systems conducted by Wilson Group:
Only 27% of employees are truly engaged, and those engaged employees are much more productive. The companies that have a more engaged workforce are more profitable, have higher growth, and more resilience to a changing marketplace than a company with a non-engaged workforce.
Motivation
So what can spur such engagement? The study found that it isn't necessarily money. In order to engage and motivate hourly employees, prioritize the following:
1. Purpose
Give them a sense that what your organization is doing is making a difference and/or a positive impact on something bigger, like the community as a whole. Instead of only measuring their performance with figures and numbers, connect your team's work to other people and company values.
2. Mastery
People like to know that they're mastering something (whether that be a skill set, role, etc.).
Help your employees improve by giving feedback and recognizing their improvements and achievements. A sense of progress can help contribute to inner drive and boost motivation.
Additionally, giving your team the opportunity to train into a higher level position will provide them the opportunity to earn more as they create more value for the company. The company will benefit as well, since it's more cost effective to promote from within than to recruit from the outside.
3. Autonomy
Give your service employees choice over how to do things and encourage them to come up with their own solutions. Listen to and recognize their ideas for improvement, but don't make them responsible for implementation.
Be on the lookout for great ideas that can be implemented across the company. And make sure you provide public recognition to the person that came up with the idea. Some organizations even provide monetary compensation for ideas that can save the organization money.
4. Workplace Conditions
Great workplace conditions are essential to happy, motivated employees. Make sure your facilities are up to code and survey your team to ensure they feel comfortable and secure in their working environment.
Protect your work environment by using your culture filter. This means you are continuously weeding out individuals that conflict with your company values, or that cause a break in your team's productivity.
5. Job Security
Employees will have a better sense of how and where they fit into your organization if you help them better understand the business and why they're crucial to its success. Since they are hourly and not salaried employees, having a sense of job security is even more essential to their continued commitment to the company.
Other ways you can provide job security include consolidating part-time positions into full-time positions, providing a clear development path for your employees, and keeping the lines of communication open.
Recognition
One of the best ways to reward your employees is to recognize them. However, according to research by Bersin & Associates, "87% of organizations still rely on ineffective tenure-based service level awards."
The study found that companies with recognition programs have "31% lower voluntary turnover than their peers" and that "employee engagement, productivity and customer service are about 14% better than those where recognition does not occur."
Some forms of recognition include: Company-wide publications, company events, monetary rewards or prizes for top performers, and proactive programs for internal promotions and development.
Compensation
While your budgets may be limited, there are often ways you can redistribute your compensation structure to reward top performers.
For example, if your budget allows for an average $10/hr wage for a group of 15 employees, here are some potential ways you could restructure compensation:
Based on Productivity: The top five performers receive $10.50, the average five receive $10, and the lowest five receive $9.50.
Based on Value-Generating Activities: Give five of your top employees $10.50 to train your new employees, or other tasks that will help your overall team be more productive. This presumes that these tasks will in turn allow you to reduce the total team hours dedicated to the job.
Based on Tenure and Overall Goals: Give your newest employees a lower starting point, with clear benchmarks to achieve, which will earn them micro-increments as they settle into the job. This will not only free up resources for your longer-tenured employees, but it will also reduce the amount you invest on people who are still in the learning curve, or better yet, who will turn over within the probationary period.
Commission Based on Revenue-Generating Activities: In some cases, you can use your service team to identify additional opportunities that your sales team may not be aware of. This could be a win-win for both the company and the individual, as long as you are careful to ensure that it doesn't generate conflicts for the customer relationship.
Conclusion
Focusing on engaging, motivating, recognizing, and correctly compensating your hourly service employees will help spur more productivity and increase commitment to your organization.
At the end of the day, people like to feel valued. If you make your hourly employees feel like valuable parts of your organization and show them how their work matters, increased drive, motivation, and productivity should naturally follow.